It's true.  The short-term, finer scale NAM and many mesoscale (local) models that are initialed off the NAM, push the warm tongue inland thru Wake Co., resulting in a prolonged period of sleet before snow completes the storm.
A couple of points:
It's too early to jump on that hypothesis without support from other models (for the record, the GFS (American long term) and Canadian have come in steady with minimal warm tongue intrusion this evening…still waiting to see the Euro)
Even if the NAM solution verified, we are still looking at a formidable winter storm…something like and inch or two of sleet plus and 2-3″ of snow.  This is arguably worse for travel with the more efficient sleet as an icy base with snow on top.
Let's see more data.  There are other mesoscale models that keep Wake Co. all snow.
No changes tonight to my outline for a range of 6-10″ in Wake Co.
In thinking about measuring accumulations with the possibility of a snow-sleet combination:
Snow and sleet should be measured separately.
If there is any sleet mixed in, it would most likely precede the snow.  However, in the event that any sleet falls on top of the snow, it will compress snow in your backyard vs the official measurement.
Remember that snow would fall with a higher accumulation to liquid ratio (probably 10:1) than sleet which is probably closer to 3:1…i.e. sleet eats up the available precipitable moisture for hydrometeors much more quickly than snow.
And just as I'm about to finish…THE NEW EURO COMES IN…
It holds fast with thermal profiles that support all snow in Wake Co. It also portrays the favored moisture axis a little farther north, such that its totals push a foot.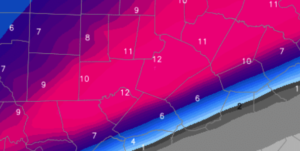 So, as I started this post…I'll hold fast on my 6-10″ range for Wake Co.