Ok, Arthur may have altered the lyrics today for landfall tonight. 😉  (I should clarify that I don't think it will be as far west as Camp Lejeune, but it made the rhyme work for the song)
The latest 18Z models definitely shift the entire guidance envelope to the west…making a track inside of HAT seem like the likely scenario now.  And the 12Z Euro agrees.  Again this is important because where the eye passes and to the east will be the worst of the storm.  This track puts most of the OBX on the 'wrong' side of the path and increases the chances for more damage.  It also puts the popular NC beaches…Emerald Isle, Salter Path and Atlantic at higher risk for a direct hit.
There are lots of emergency preparations going on at the coast now.  In Hyde Co. they mean business…alcohol sales have been suspended!  I bet there's a black market formed already!
But seriously, the satellite presentation has improved this afternoon with ragged eye emerging.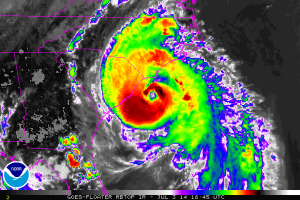 We can expect a little more strengthening before landfall later tonight.  Latest pressure is 977mb.  I am comfortable with my call last night…landfall close to Beaufort with max sustained winds of 100-105 mph east of the center.  Remember the good part of this storm is how quickly it will be out of here.  Stay safe if you're at the beach!