…a certain 'Cinderella Team' began its march to an unlikely National Championship.  But does anyone remember another significant Cinderella story during that run?
That was Raleigh's last big late-season snow…over 7 inches on March 24th.
Here we are 30 years later.  I say it's time for a repeat on both accounts!  Here's to some wishful thinking!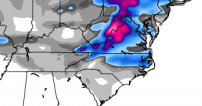 For fun…here's one model's snow accumulation ending 3/24/13.  Plenty of time to fret over this.  Just something to watch for now.  I'm sure I don't have to remind you how difficult it would be to pull this off so late in the season…
But hey, if the glass slipper fits…!!!