If Matthew is listening to a playlist, right now he's probably playing (Pink) Floyd. (insert groan)
Thankfully, the eyewall of Matthew has maintained just offshore through FL.  As it moves northward, I still like the idea that it tracks over water or just grazes the coastline all the way to Cape Fear.  As mentioned last night, this will put eastern NC in a really bad position to receive a lot of rain.  The numerical modeling continues to highlight this threat and is converging on a solution that would produce widespread inland flooding.
I make the reference to Floyd in 1999 as the last great flooding event in eastern NC.  One of the things that exacerbated the flooding with Floyd was the fact that Hurricane Dennis had dumped several inches of rain over eastern NC just 10 days earlier.  This time around, areas around the region, including Fayetteville, are still recovering from flooding last week.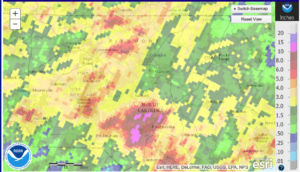 Here is the observed rainfall over the past 2 weeks centered over Raleigh and Fayetteville.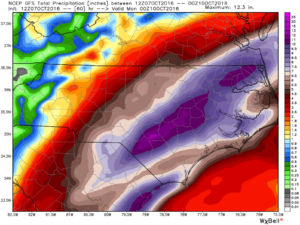 Here are predicted storm totals for Matthew from today's 12Z GFS.  That's a lot of rain on top of already saturated ground.

For comparison, let's look at totals from Dennis followed by Floyd 10 days later in 1999…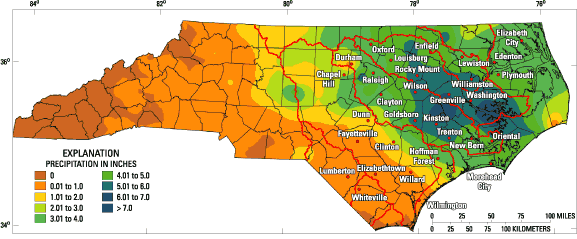 Here's Dennis…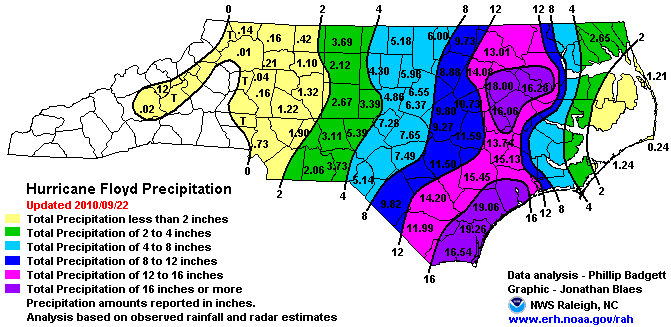 Here's Floyd…
It's a serious situation to watch over the next 36 hrs.