I have to make this short and sweet…
While there remain some quantitative differences among the various models as to the morphology of the precipitation shield, there is a consensus we will see a significant winter storm beginning tomorrow evening and through Saturday.
As demonstration of the unanimity across the GEFS (American) ensemble members, check out this AM's run compared to a couple days ago. (again, thanks to WeatherBell for their great graphics)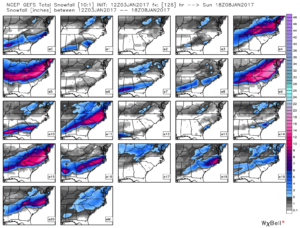 Obviously, with each ensemble member producing 10″+ and an ensemble mean nearing a foot, this is the real deal.  The Euro and its ensembles are in similar agreement, albeit with ensemble mean closer to 6-7″.
The trick is figuring out the orientation of the precip axis and then factoring in any warm tongue intrusion that may change over the southeastern boundary of snow to sleet for some or a significant duration of the storm.  These are details to be ironed out over the next day.
But qualitatively, I'd expect Wake county to range from 6-10″ west to east.  Bust potential to the low side is 2-3″, bust to the high side is 12-13″.
It will be chilly on Sat night down to the mid teens, but Monday AM will be brutal in the 0 to 5F range with a solid snowpack.