…shaved, crushed, cubes?
Everything looks more or less on track.  However, I'm puzzled as to why we're calling off after school activities today, but I suppose somebody get's big bucks to make that decision.  As to timing of onset, things in Raleigh shouldn't begin in earnest until after 10 this evening. There will continue to be a couple of passing showers and areas of drizzle, though. The main precip shield hasn't even developed yet.  When it does, nowcasting it's arrival should be much easier.  Then overnight the majority of the precip will fall in the form of freezing rain with some sleet mixing in, especially north.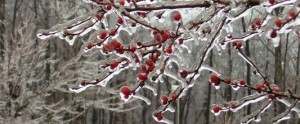 And I'm thinking to maybe dial back the 'sweet spot' totals I mentioned to up to .4″ with the next band of counties to the west to up to .25″.  These aren't really material changes in terms of impacts, but I wanted to dial the totals to reflect what's more likely, rather than what is possible.  Again, once the precip shield develops this evening we should be able to get a good handle on it, as opposed to believing a bunch of 0s and 1s some oversized calculator is crunching.