As to the question of "To Sea or Not to Sea?"… I think we still have to wait and "see".  No doubt, the majority of the modeling indicates that the eventual explosive cyclogenesis should take place offshore far enough preclude an I-95 corridor blizzard.  However, there are some things that just don't seem right to me.
Anytime we have coastal cyclogenesis the uncertainty level is heightened.  In this case, multiple different shortwaves will interact and incite two surface lows off the East Coast.  The various models differ on where each of these lows form and how they track north.  What is unifying in the solutions is that one low cannibalizes the other as it bombs out heading for Nova Scotia.  In many of the simulations the more south and east low predominates and much of the energy is pulled east.  In the latest, Euro there's even a Fujiwhara-like tango of the two low centers…
It seems weird to me that the more western low would lose out to the eastern low, especially since the western low should be fed by the warm Gulf Stream.  See the current SST (sea surface temperature) anomalies…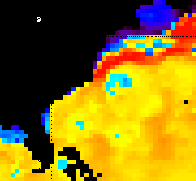 By now you're probably bored and want me to cut to the chase as to what this means for NC, so I'll oblige… I don't know.  Just picking.  Kind of…
For clarification of time…this will be Tues AM.  Following the party line would be to say that development of a coastal low will confine the deepest moisture and precip totals east of Raleigh.  And without sufficient precip, it will be tough to cool the boundary layer to near freezing.  That means that there should be a cold rain mixed with snow, especially in relatively heavier showers of precip.  But we're only talking .1″ of liquid equivalent, so not much of anything.  Heavier precip amounts will be found farther east to the coast.  In the northeast part of NC into eastern VA is where there could be more snow mixed in.
All this is based on the low developing sufficiently offshore, a westward jaunt of 100 miles would mean heavier precip rates and more heavy wet snow into Raleigh.  Perhaps I'm being foolish about this, but I want to see more agreement in the modeling before I pronounce this scenario off the table.
If you're traveling north this week.  Boston and Cape Cod look to get clocked.  Again I want to see how this dueling low thing plays out and which dominates, but under the western-dominant low idea we would see lots of snow back into Long Island and double digit totals even into NYC with several inches back to Philly and tapering back south and west.
Lots of time yet to fret!