Things still look on target for snow to begin in the Triangle between 3:30 and 4:30pm.
Let's not get ahead of ourselves before the first flake falls, but some of the short-term/high-res 'nowcast' modeling is indicating the potential for higher totals in the the Triangle, especially Wake county.  Let's not up our totals just yet, but just say that the 12Z Euro came in a little wetter, and now the RAP is more bullish.  So while the large totals are still a longer shot, there are decent chances on the table for a major event this far west.
Just for fun, and because I know you children like pictures…here is the RAP snowfall accumulation map that assumes a ratio of 10:1.  Remember that I'm expecting ratios at 12 to 15:1.  So, if this solution verified you can bump the Raleigh value of 7-8″ up to 9″-12″.  (for reference the first purple contour is 7″, the dark blue is 3″…again, assuming a 10:1 ratio)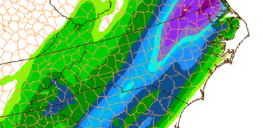 Again, I show you this kind of stuff just for fun.  This is not a forecast.  Just an example of one of many products that the meteorologist has to ingest before coming up with a forecast.