Matthew is poised to graze Florida's Space Coast early tomorrow morning as a category 4 hurricane.  There is still much debate at this late hour as to whether it actually penetrates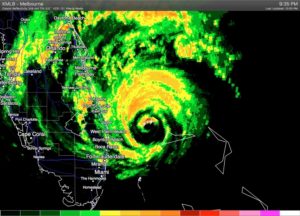 inland or remains slightly offshore.  It's the trickiest of forecasts with significant implications to subsequent storm strength farther north up the coast, including in NC.
I'll leave the nowcasting to your local media outlets as Matthew tracks north.  What I'd like to put out there are a couple of points:
The models have waffled back and forth as to the track.  I've always been of the opinion that Matthew will track just offshore from Melbourne, FL all the way north to Cape Fear… mimicking the shape of the coastline.  Models have insisted on a sharp right turn out to sea near Charleston, but this evening's 0Z guidance leans more towards my camp, suggesting a farther northward motion before the push to sea takes place.  Obviously, this would mean more rain, wind and surge for NC.
No matter the exact track, the interaction of Matthew with an inverted trough along the coast and the impinging cold front from the west, will combine to funnel a ton of moisture into eastern NC.  Indications this evening are that totals could trend higher.  At least 2-3″ in Raleigh on the low end.  More likely to be 4-6″ for us.