Snow, snow all around…
Filling in to the west, filling in to the east. Raleigh left in the doughnut hole.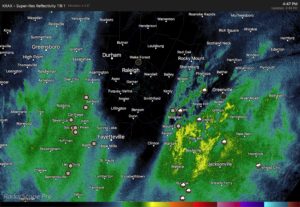 Should begin to snow in the Triangle over the next hour or so and then we'll see how long the precip lasts…cutting off in Raleigh before midnight.
Hopefully we can achieve that inch or two!
Again, be safe and take it slow as just a little snow on these cold roads will make driving tricky.