…but will there be flakes falling from that sky?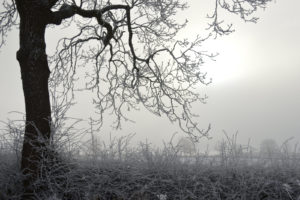 I'm fairly confident that flakes will fly in the Triangle Friday into Saturday morning.  That's the good news.  The bad news for snow lovers is that flakes flying could be all that happens with nothing to show for it on the ground.  Or…precip rates could be hard enough to push surface temperatures close enough to freezing that would allow minor accumulations on grassy surfaces.  In the spectrum of possibilities, (remembering…nearly three days left to go) I favor a scenario where precip begins as rain on Friday, mixes with snow Friday afternoon, changing to all snow Friday evening and overnight Saturday morning.
Accumulation should be limited by the warm surface layer.  So, best guess now is the 'everyone is happy' scenario:  that is, snowflakes in the air…minor accumulation on the grass to make it look pretty…no travel problems!
More tomorrow!