And so…let the snow lovers begin to wish and hope for the potential of winning the snow lottery this weekend.
There will be a strong tight gradient between arctic air to the north and unseasonably warm air to the south.  A storm will form and ride along the boundary with abundant moisture.  To the north of the track, cold with lots of wintry precip, to the south, warm and wet.  This map gives you an idea of what the temperature gradient might look like.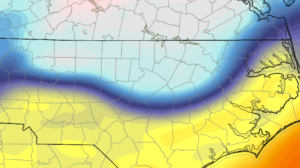 So it becomes a question of how far south the arctic air can penetrate.  Right now the best guess is probably that central/northern VA and north is the favored axis for snow.  But northern NC is not necessarily out of the game.  5-6 days out all solutions remain in play.
Don't get worked up over this.  Just something to see how it plays out.  Even though it's been a rough hot winter…it's only takes one time for everything to come together and make all the snow people happy.  We shall see.