Indeed the cold wedge has held firm as it took until 7pm for RDU to reach the freezing mark.  And even as the temperature slowly climbed thru the afternoon, the glazing was kept in check because of indirect solar radiation bleed thru and upwelling ground warmth.  It's nearly impossible to achieve a significant ice storm without a continuous supply of fresh cold air to counteract the self-limiting process of freezing rain drops, which tends to warm the local environment through release of latent heat.  That's what you saw today…despite temps in the upper 20s, there was only light glazing to 1/10th of an inch.  And in the end, it all went pretty much according to plan…but maybe a little lighter on the snow/sleet than i thought.
Looking to tomorrow AM, temps will rise over night.  And we'll have our second messy commute in a row.  This time, we'll just be fight heavy downpours and gusty winds.  There should be moderate to heavy off and on rain with the narrow heaviest band progged to sweep thru Raleigh close to 7:30am.  Here's the HRRR's (short term model) depiction of what the radar might look like at 7:15am tomorrow: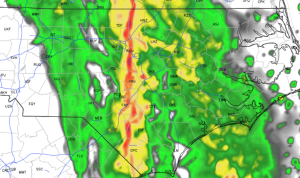 The rest of the week should be mild.  Enjoy.
Looking ahead…Is winter over?!  Nope.
We have elements coming together for the next major East Coast winter storm next Wed or so.  Will we be cold enough?  The storm track looks favorable.  Stay tuned.