We've known for several days that there would be a rapidly deepening low forming this weekend off the Southeast coast that would race out to sea.  At this point, it looks like the low will be tracking 'too close for comfort'.  As is the case with, particularly bombogenesis, the models many times have a tough time converging to a consensus solution…even still with just hours until the event.  And so this is the case today where much uncertainty and spread exists among the numerical guidance.
Two factors to consider… 1) Low track and it's implication for where the tight precip gradient lies and 2) thermal structure of particularly the lowest 1000 or so feet of the atmosphere.
This is where much of the uncertainty is in this forecast.  Obviously a track closer to shore means more precip.  And this is one of those situations where the precipitation rates can dictate precip type.  Heavier precip rates will tend to cool the marginally cold boundary layer and mean that the precip falls as snow.  Otherwise, lighter rates would mean rain or a rain-snow mix.  Moreover, heavier precip rates would favor overcoming a somewhat warm ground for slushy accumulations.
Just for fun…here are the short term ensemble members numbers for total snow.  All over the place.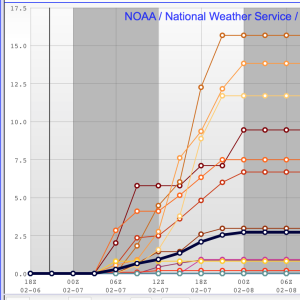 I think it would take a miracle for everything to come together for something truly significant.  In Raleigh (and even less west towards Durham) the most likely outcome is a dusting to an inch accumulation, especially on grassy surfaces.  Looks like probably the highest accumulations occur toward the sandhills, maybe Goldsboro, where a couple inches are possible.  Timing is middle of the night thru tomorrow AM.  So for this one, the aesthetics of the snow falling will probably trump the impacts.  However, this is one to keep an eye on just in case.  We'll see how it develops tonight and nowcast.
Upcoming…
There's another chance for rain/snow mix on late Mon/Tues.
Then, a big cold shot coming for Valentine's!  Temps could be 30° below normal.
And more interesting is a potential interaction with southern stream energy that may be lurking for early in the week following Valentine's.