Hope you enjoyed the quick snow flurry this evening…just a harbinger of things to come!
No new information yet as the evening model runs will trickle in over the late evening, but there a couple of other points to drive home while we wait.
When you have the potential for more than 2 feet of snow, it's fun to anticipate a blockbuster event.  And it's especially fun when those totals will be relatively close by and/or near major metropolitan centers.  This is going to be a big storm that impacts millions of people.  And while extreme totals are cool to talk about, I think it's important to remember that in terms of covering the ground and roads…2-3″ of white stuff (snow, sleet, freezing rain) is about all you need for a 'successful' NC snow.  And really, it's not appreciably different from 4 or 5 or 6 or 7″.  It just takes longer to get rid of afterwards.  Of course, when you approach a foot plus, things get more complicated.
Interestingly, the high res GFS ensembles have been the most bullish on higher snow totals nosing down into NC even more so than the Euro.  As I mentioned in earlier posts, there is good consistency in the ensembles suites for a significant event.  See this image, which is a collection of the thumbnails of all 21 ensemble members of the GEFS (American) for accumulated "total snow" for the storm.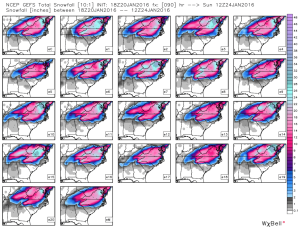 Remember to not take the scale literally because the way snow and frozen precip are treated and accounted is complicated to interpret.  So, use this as a qualitative broad stroke depiction, not a quantitative metric.  That being said, the latest (18Z) ensemble mean pushes the 1 1/2 ft line south of the NC/VA border past Roxboro and Henderson.  Again, it is not likely to be all snow there, but…  Also know that there will be steep gradients on the southern (and northern) precip boundaries where accumulations go from nothing to something to a really big deal over just 50 miles.
Finally, keep in mind that for many people in central NC, the storm will go snow to sleet to freezing rain (maybe rain too) and back to snow.  After the initial snow falls it will be compacted by the heavier sleet that falls on top.  This may cause some shock for those who get 2 or 3″ of snow and look out a couple hours later to see that their accumulation has shrunk to only an inch or two with the sleet on top.