The NWS has issued a Winter Storm Watch, so let the games begin.
First, it should be noted that the numerical modeling has been pretty good with its handling of the storm over the past several days.  Not that there haven't been changes and trending. But qualitatively, most of the global models have been consistent in depicting a blockbuster storm over the past week.  The battle has really been to discern if the storm track is to be more northerly or southerly.  As we approach gametime, the southerly track looks to be the winner.  And for central NC, a more southerly track means being on the colder north and west of the storm track.  What was depicted as a 35° rainy depression a couple of days ago, now looks to be a classic NC winter storm with all the forecasting challenges associated with a Miller type B storm evolution, cold air damming and four different precip types.  Not to sound like a Facebook relationship status, but…It's complicated.
As outlined a couple of days ago, the general storm evolution for us will be that of coldest on the front and back ends with the questions of how much warm where and for how long in the middle.  Those answers drive the 'what's gonna be in my backyard?' precipitation forecast.  I've also been reporting that the trend of the numerical guidance has been colder.  And that still continues, altho with much less dramatic correction than before.  For instance, this AM's Euro deterministic keeps all of Wake Co. at or below freezing for the entire event.  Additionally, the depth and northward penetration of the warm tongue was scaled back.  All this indicates that snow and sleet might be the predominant p-types for longer, which would limit ice accrual from freezing rain.  Again, the Euro is still colder than the American GFS, but both the Euro ensembles and the GEFS ensembles are in impressive qualitative agreement.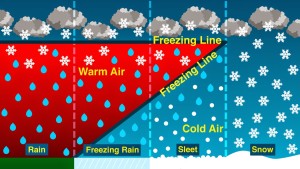 Everyone wants to know how much.  Let me put forth a first guess for Raleigh.  2″ of snow before a changeover and/or mixing with sleet.  The sleet will compact the snow down as it adds another inch or so.  Then we add a 1/10th inch of glaze from freezing rain. And finally as we change back over to snow on the back side on Saturday we add another inch or two.  So, a relatively conservative first stab is 3-5″ of miscellaneous wintry stuff.  More snow/less ice north and west will yield impressive totals of over 2 feet in the northern NC mountains through central Virginia, and with 1 foot totals possibly as close as just north and west of Greensboro.  South and east of Raleigh accumulations ramp down pretty quickly as freezing rain could be the major concern, but a changeover to all rain in the middle of the storm for these folks would limit the severity.
Still 36 hrs to see where the models exactly converge and the aforementioned transition zone sets up.  Obviously, a continued trend to the south with the storm track will bias snow totals higher.  A reversal of the track to jog more north would limit accumulations as a changeover to rain becomes more likely.  I'll try to draw up a forecast map this evening to help you visualize.
More late tonight on weathertrex.com.  And for more frequent comments follow me on twitter @trextrex14.