At the risk of 'jumping the shark'…sing this to yourself…(to the tune of Let It Go)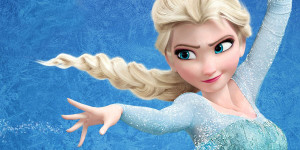 Epic snow, Epic snow!
Can't hold it off anymore
Epic snow, Epic snow
By the end you'll scream…no more!
The snowstorm that many in NC dream of is potentially lurking just around the corner.
The main question mark is…how far north does the warm tongue penetrate?  This could cause a 6″ or more differential in snow totals.  The trick in nailing this forecast will be accurately assessing how far north it gets.  Just to the north of that will probably be the axis of heaviest snows.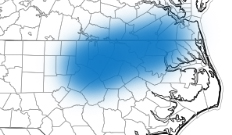 What if the forecast is a bust…I think the low end bust potential for the Triangle is 4″.  However, I think the Triangle will probably end up at the southwest corner of the swath of heaviest accumulations.  (See the graphic).  In this axis, accumulations of 7-10″ are likely.  But there is potential for more than 1 foot.  As I said last night, to the south of this band, the gradient to light accumulations will be much sharper than to the north.
The models are in complete agreement for copious QPF (liquid equivalent) for the event.  For Raleigh, 1.25″ of liquid equivalent is the consensus.  Knowing we'll begin as rain and be above freezing, let's take away 0.25″ to rain and melting at the beginning.  Then, take away another .2″ to account for any sleet and freezing rain that might mix in.  That leaves you at .8″ –> 8″ at 10:1 or about 9.6″ at 12:1.
(There is one little fly in ointment for realizing all this QPF that I'll not discuss yet, but will watch and talk about later tonight, if necessary.)
What to expect…this evening, rain will breakout 6:30-7:30pm and change to heavy snow between 9 and 9:30.  There will be times overnight when it snows 1 to 2″ an hour.  We'll be watching that warm air to see how far north it makes it.  But any way you look at this, it's going to be a major event.  Enjoy.