Once in a 'long time' event for freezing rain at crazy low surface temps is underway.
Temps in the Triangle are either side of 20° even as a freeing rain / sleet mix falls.  This is very impressive from a meteorological weenie perspective.
Things are going pretty much according to plan.  I expected to see a little more snow/sleet earlier to achieve a little more in the way of white accumulation this evening.  But we will still see periods of primarily sleet driven by higher precip rate cells thru the night.  Expect sleet showers and freezing rain to waffle (special lady) back and forth favoring freezing rain from Raleigh south.  Then maybe a a little sleet near daybreak as the freezing rain ends.
The better case scenario would be for more sleet rather than freezing rain, which would limit the accrual of ice on trees and power lines.  I'm actually optimistic that Raleigh may see enough sleet mixing in that we will luck out with only 1/4 to 1/3″ of glaze.  In southern Wake Co. maybe not so much with up to 1/2″ or more.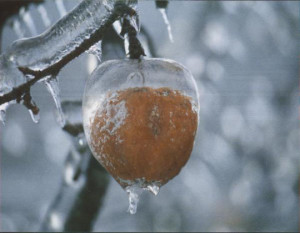 Like I said yesterday, no matter how you slice it…this will be a major event for much of NC regardless of how much white stuff is on the ground vs. the glassy stuff in the trees.  Widespread power outages will be the norm.
Final call for Raleigh is 1/2″ of snow/sleet and 1/3″ of ice glaze.
Behind the wintry precip comes the coldest air in 20 years.  As the arctic front arrives on Wed, expect to see some snow showers.  Then Wed night lows at 3-7.  Thursday highs will not get out of the teens…under a decent amount of sun.  Then the fun begins as the watch for a below 0 low begins…will we make it?!  perhaps.
Still watching a couple of systems over the weekend and early next week for more winter weather fun!